Offer
We offer a wide range of research services including chemical analyzes and expertizes, along with production problems solving. We carry out research, among others, for the refining, pharmaceutical, food, and processing industry, as well as for environmental protection purposes. The range of services we offer includes the development of analytical methods, sampling of fuels and biofuels, biocomponents, waters, sewage and soil. We perform, among others, measurements including determination of gas composition, elemental composition and fuel parameters. We also advise in the selection of the appropriate analytical method as well as develop our own research methodology. A separate branch of our activity is the performance of comprehensive analyzes for the purposes of registration of chemical substances in accordance with Regulation (EC) No 1907/2006 — concerning the Registration, Evaluation, Authorization and Restriction of Chemicals (REACH) and establishing a European Chemicals Agency. Our Technical Department, on the other hand, deals with the production of measuring instruments, control systems, automation and small chemical installations.
CHEMICAL ANALYZES
We offer a wide range of analytical services. Our team of scientists has the knowledge and experience necessary to develop, validate and implement analytical methods. We strive to provide our clients with the highest quality services at an optimum price. In addition, we carry out comprehensive analyzes for the registration of chemical substances in accordance with the REACH regulation.
R&D
We offer independent implementation of commissioned comprehensive research and development works as well as partner cooperation in various scientific-research-implementation projects. We have our own experienced staff and fully equipped modern laboratory facilities. We provide assistance at the stage of submitting R & D applications, but most of all we help to implement them as an external laboratory (outsourcing).
TECHNICAL SERVICES
We provide services in the area of:
design and construction of laboratory and quarter-technical installations,
we provide technical expertise (private, pre-court),
preparative cleaning of chemicals,
implementation of analytical methods,
training in chemical analytics (mainly in the field of HPLC and GC).
APPARATUS
We have the highest quality control and measurement equipment that meets the requirements of the latest European and world standards. We are constantly developing and investing in the purchase of new devices, in order to gradually expand the range of offered analytical services, as well as constantly increase the sensitivity of our equipment. Our equipment includes, among others:
XRF spectrometer
elemental analyzer (CHNSO)
UV-Vis spectrophotometer (attachment for solid bodies)
FTIR spectrometer (TGA-IR, ATR, gas cuvettes)
thermogravimeter (TGA)
ion chromatograph
inductively coupled plasma optical emission spectrometer (ICP-OES)
HPLC liquid chromatograph with RID, DAD, ELSD detectors
LC MSxMS
GPC chromatograph (gel chromatography)
gas chromatographs with detectors: FID, TCD, FPD, ECD, MS
GC MSxMS
devices for sample preparation (grinders, presses)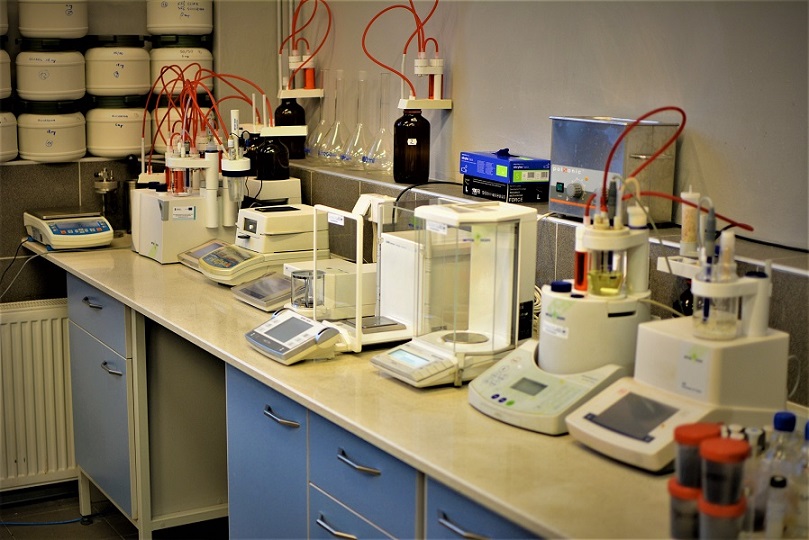 Phd. Eng. Marek Klein
Laboratory manager
Phone: +48 697 708 582
kleinmarek@ekotechlab.pl
MSC. ENG. Łukasz Heda
technologist, senior analyst
Phone: +48 504 936 663
MSc. Eng. Ewelina Stefańska
Analyst
MSc. Eng. Joanna Klein
R&D project manager
MSc. Eng. Aleksandra Sadzińska
Analyst
Sebastian Zalewski
Analyst
ABOUT US
We are a modern chemical laboratory operating on the market of scientific and research services. Our company is primarily people. The team of young graduates of the Gdansk University of Technology with enthusiasm and commitment undertakes new interesting projects. At the same time, since the company was founded in 2012, thanks to the acquired knowledge, we quickly gained the necessary experience, which directly reflected in the trust that in a short time we have been awarded by companies that are the largest leaders in the chemical and petrochemical market in Poland.
Our offer is addressed to a wide range of entrepreneurs. We deal with, among others, analyzes of chemical composition of substances, measurements at industrial installations and chemical expertises. We also perform all type of analyzes for the purpose of chemical substances registration in accordance with REACH regulation.
We provide services both as a research laboratory for large joint-stock companies, universities as well as chemical analyzes for small companies and individual recipients from all over Poland and Europe.
We also specialize in industrial measurements (energy, oil, gas and others) as well as in research and development. Our special advantage is the ability to perform non-standard analyzes.
In addition to laboratory tests, which are the main pillar of the company's activity, we also deal with the measurement of industrial installations, i.e. flows, temperature streams, energy balances, mass and other.
In addition, at the client's request, we design and manufacture laboratory installations and pressure reactors made of stainless steel.
Recently, we have managed to obtain European Union funding for our projects under the European Regional Development Fund.
WHY CHOOSE US?
Express time of performing analyzes,
Non-standard orders,
Experience in chemical analysis and process measurements,
Hardworking attitude. The work is done according to plans and on schedule.
Reliable and convenient working methods. We work in cooperation with the customers.
Consulting in the selection of the appropriate analytical methodology, as well as possibility to develop our own methods,
Professional approach, matter-of-fact, flexible and open to the needs of the client,
The highest quality analytical equipment: GC-MS, TGA, FTIR, XRF, CHNSO, GC- (FID, ECD, TCD, FPD), ASA, UV-Vis, GC-MS/MS, LC-MS/MS, HPLC, TGA-IR, CHNS, ICP-OES.
REFERENCE
Reliability in hand with knowledge and commitment are paying off. Thanks to the highly professional approach to the commissioned work, in a very short time, we have managed to gain a wide range of clients, both large and smaller. It is worth mentioning that in some cases we operate on the principle of close cooperation. Our past and present customers are, among others, LOTOS Group, Warsaw University of Technology, Cracow University of Technology, Police / Central Bureau of Investigation of Poland, Customs Office in Gdańsk, District Court in Gdańsk, Synthos SA, Orlen S.A., Philips Lighting Poland, Tecnimont KTI, PBG, Energotherm, Ciech S.A. and many other companies and research and development units.
CONTACT
If you want to know the details of our offer, have any questions or want to establish cooperation, please do not hesitate to contact us. To this end, we provide you with the contact details provided below.
ADDRESS
Office: 2a Siemiradzkiego street,
80301 Gdansk
POLAND
NIP: 5842459368

Lab: 14th Fiszera street,
80231 Gdansk
POLAND
Contact to lab
+48 570 300 575